Hockey games – Board Game
Vichitra Games launches one more board game. This time its a game of Hockey.
Hockey world cup 2023 is on the door, now you can also play it by yourself on your mobile.
You can play complete Hockey world cup in this game. You can choose any team in each game of biggest cup in the hockey world. You can also auto play the game.
You can also play friendly game by selecting any country and play against AI.
Its a hyper casual game. You can play it anytime anywhere.
Use Abstract strategy tactics in this Hockey Board game and enjoy the sports.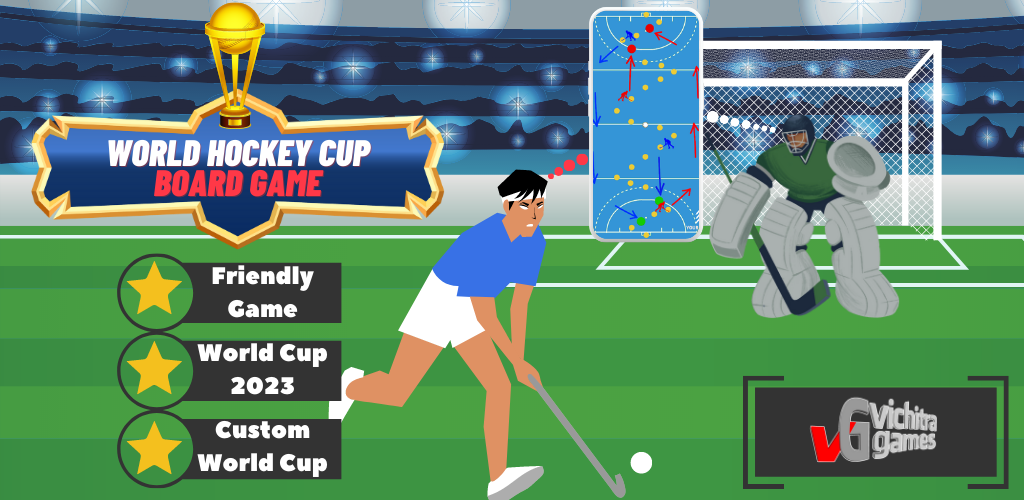 How to Play ?
Press and hold shoot button to generate power.
Release shoot button to shoot the ball and ball will move respective places on board based on the generated power .
Its a turn based game, so after user's turn AI will play.
There are two places on board where you can pass the ball to further places on board but beware of AI's pass places too.
You need to take ball to exact goal position to score a goal, if you generate more power than require then goal will be saved.
You need to score the goal within D area only. You will get chance again if ball goes to highlighted spots in D area.

Each team will get a total energy based on ranking before starting the game. User need to use this energy wisely. Once this energy reaches 0 then user will start loosing maximum energy which can be used while shooting the ball. User can use 3 substitutes in the match to increase maximum energy by 1 each time.
In world cup mode, user will get more total energy in league games and total energy will start decreasing in knockout games. This indicates that players are tiring as world cup progresses.
AI will not loose the maximum energy and after half time or extra time user will get the first chance to play. This is done to make game competitive. We will try to improve this logic over the time.
This is just a beginning of this hockey game. More improvements are on the way of this exciting journey ahead.